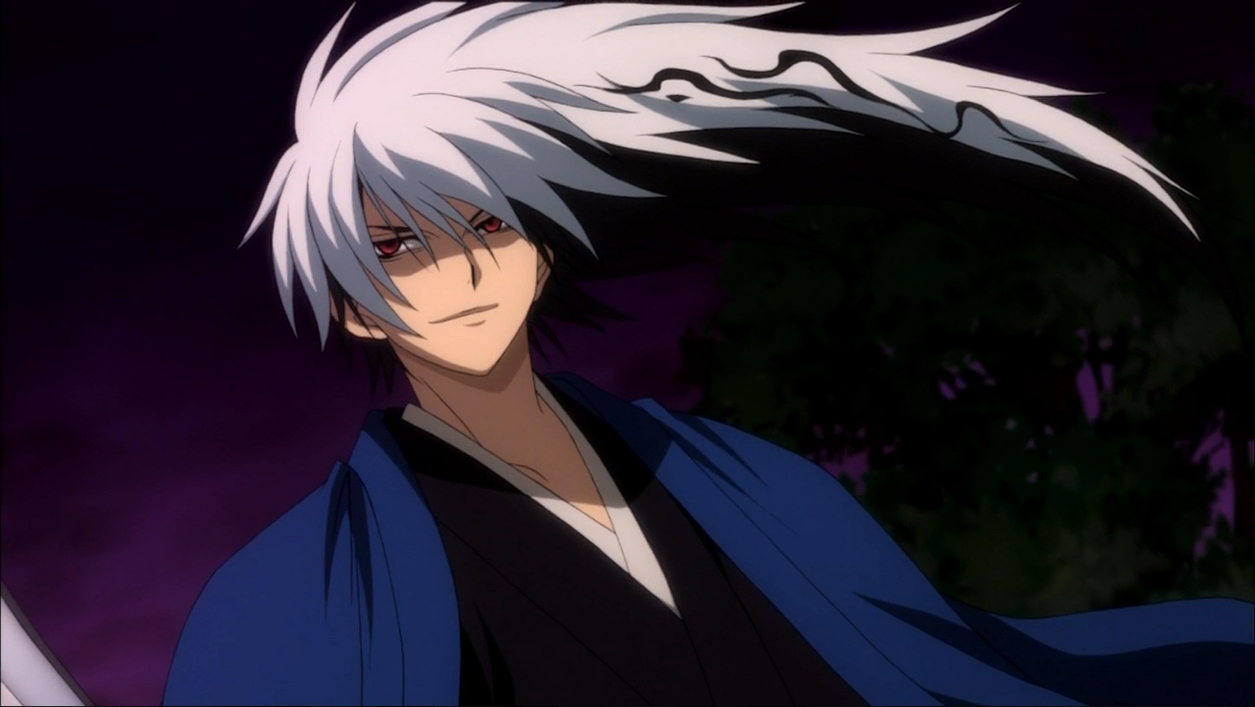 Name: Dasa Ajin
Nicknames: Is called 'Baka', by his older brother's which means 'Moron or Idiot'
Gender: Male
Age: Appears to be in the 20's, though he actually is much older
Height: 6'4
Weight: 195 pounds
Timeline: Feudal Era
Status: Single, though is looking for a mate
Sexual Interest: Heterosexual
Skilled/ Unskilled: It is very difficult to say if he is skilled or not. However, he has read what one must do as well as listen to his brother's.
Personality: Dasa is a interesting combination in being mature and sometimes can even act childish. He tries his hardest to be a good leader though he is the youngest of the brother's. Dasa can be nice and at even times can he be fatherly or brotherly all due to his age. Some think he is mature while others think he is childish. Dasa tries hard to please his brother's and sometimes it fails. A bit of a nagger and sometimes a worry-wart, he can not help it at times. Due to him being the only one of his kind along with his brothers does he try hard to be a nice guy as well as a brave one. Though, at times he can show a shy side of himself as well. Some what smart and a house wife, he had to teach himself these things since his brother's kind of lack in that category. To put it as plain and simple, Dasa is a nice guy once you get to know him and his smarts.
Talents: Everything house related, good at listening to peoples problems, some what of a baby sitter, and is good in tolerance.
Likes: Cooking, cleaning, being there for his brother's, training, and at times taking in the sights.
Dislikes: Rough-housing with his brother's, his brother's picking on him, and kids who are brats.
Fears: Being a sucky leader, not being able to find a mate to save his kind.
Attire: Dasa wears clothes that are indeed fashionable and some what brand new, due to him being the leader of his kind does this lead him into wearing clothes that appear and look to be new. Always a traditional guy will he wear kimonos in both dark grey and blue with a coat like cloak over his shoulders. He is into fashion but sometimes he can be lazy and just wear white kimono's.
Weapon: Old fashioned katana
Armor or Nonarmor: None
Holders: Dasa's sword is within a sheat of normal wood, he however carries it where ever he goes just in case.
History: This weapon has been passed down within his family for sometime now, his blade is normal but it is sharp and sturdy. The sword indicates who is the leader and thus holds some kind of value. Dasa adores his weapon and will come to use it to point at people when it is still within its sheath. Dasa treats it like a extra arm at times and can't help but point it at people.
Hometown: A village within the mountains, however this location is unknown and some believe it to be in ruins.
Birthday: March 6th
Guardians:  Trasa Ajin and Kasa Ajin, they are older than him and thus act like parents sometimes.
Siblings: Trasa Ajin and Kasa Ajin, older brothers.
History:  Due to the fact that Trasa could not have kids due to his liking of men and Kasa becoming wounded to where he could not have kids did the brother's vote their youngest brother to be the leader. Sure, he was young and hadn't experienced all that they have had but this was their only way of restoring their kind which will soon be lost. Dasa took it upon himself to try hard and make his brother's proud though it fails quite often due to them complaining about every little thing. Dasa learned how to cook and did everything house hold related. Kasa and Trasa are not so good in the kitchen and so Dasa cook for them, Trasa is good at tea making and Kasa sucks in every single way when it comes to cooking since he is more of a fighter than a house maid. Dasa is right now looking for a mate and hopes to find one soon, however he found Ayameko and introduced her to his family. Dasa cares a lot for her but is afriad to share his feelings though his brother's bug him about his feelings from time to time.